UPDATE: As I predicted in one of my tweets today, Rogozin got away by taking a commercial flight to Moscow, and cheating Ukrainian air controllers. Yep, if cheating was his victory, let it be 🙂
He also cheated the rest of the Russian delegation, who are stuck in Tiraspol
ORIGINAL TEXT
Today may have been the most embarrassing day for Russia since the start of the Ukraine crisis. At least it was certainly for Dmitry Rogozin, the abrasive, US-hating, cocky deputy PM of Russia. While Putin was celebrating V-day on the Red Square and later in the Crimea, Rogozin was dispatched to Tiraspol, the capital of the unrecognized sliver of a republic called Transnistria. Not only did this very trip represent a direct affront to Moldova, on whose territory this "republic" says it exists, but he made sure he would offend as many people as possible during the trip. In this tweet, Rogozin warned "pro Romanian activists to carry on their sweet euro-gay parades on other days and not to spoil our festive mood on V-Day"
"Советую прорумынским активистам проводить свои сладкие евро-гей-парады в другие дни и не портить нам праздничное настроение в День Победы"

— Dmitry Rogozin (@Rogozin) May 4, 2014
The Moldovan government – quite politely – warned Rogozin not to make the trip to Tiraspol, because – at the very least – it could not guarantee any security for the VIP guest in Transnistria, not only because Moldova has no functional control over the enclave, but because this dwarf state is probably the least safe place in Europe.
This this, Rogozin flipped that "appreciated the threat". "Wait for me," he ended his tweet.
С уважением отношусь к сторонним советам и тем более угрозам, но все же приеду на День Победы в Приднестровье http://t.co/qvPKJdAiXG Ждите

— Dmitry Rogozin (@Rogozin) May 4, 2014
Whatever. Long story short, after weeks of ridiculing EU and USA sanctions on Russia and himself personally (he is on the list), on May 8th he decided to fly to Tiraspol. Problem was, Ukraine didn't permit him to fly via Ukrainian airspace. Then he decided to fly via Romania and Bulgaria. Because of the EU sanctions, he was on the non-fly list for EU airspace, and he just told his pilot to lie to Romanian and Bulgarian air-dispatchers that there was no banned passenger on board.
Пилот сообщил, что диспетчеры Болгарии и Румынии запрашивали его, есть ли на борту "запрещенный пассажир". Собирались поднимать перехватчики

— Dmitry Rogozin (@Rogozin) May 8, 2014
And it worked – once. But after he boasted, idiotically, on FB and Twitter, a the Romanian and Bulgarian authorities figured out they had been duped. And they were waiting for his return flight.
After saluting some Russian tanks and catching some fish,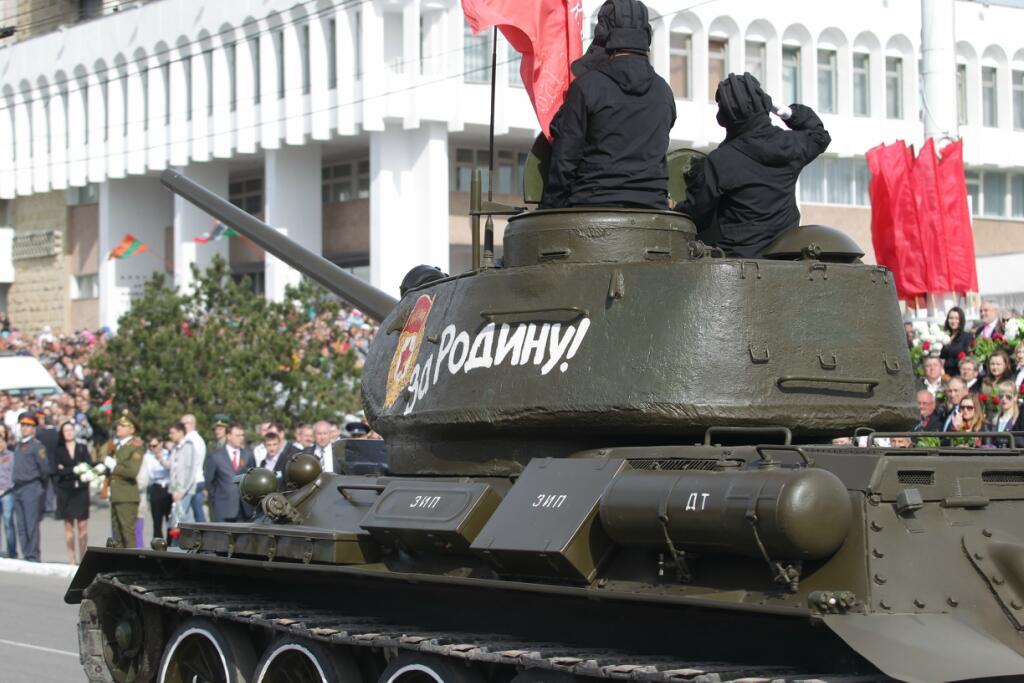 it was time to go home.
This morning, Rogozin complained on FB and Twitter that he got two refusals for passage through airspace, one from Ukraine and one from Romania. Here is the actual text of the denial manifest from Romania:
"IT IS NOT PERMITTED TO OVERFLY ROMANIAN AIRSPACE WITH AIRCRAFT
CARRYING ON BOARD PERSONS LISTED TO THE EUROPEAN UNION COUNCIL
DECISION NO. 2014/145/CFSP OF 17 MARCH 2014, EUROPEAN UNION
COUNCIL DECISION NO. 2014/151/CFSP OF 21 MARCH 2014, COUNCIL
REGULATION (EU) NO. 269/2014 OF 17 MARCH 2014 AND COUNCIL
REGULATION (EU) NO. 284/2014 OF 21 MARCH 2014″
Yet, the macho that Rogozin is, he declared that he would defy the ban and fly anyway.
Вылетаю несмотря на запрет

— Dmitry Rogozin (@Rogozin) May 10, 2014
And he did.
Here he flies out of Chisinau airport (Transnistria is a landlocked enclave that has neither airports nor ports).
But, just as his YAK plane approached the Romanian border, however, he changed flight path and suddenly veered north, towards Ukraine. Apparently he got "a" message from the Romanians.
I guess he thought the Ukrainians would be sloppier, or at least not as brave (not being part of Nato) to actually send intercepting jets. So he trespassed into Ukrainian territory, despite the explicit ban.
At this point, a heated debate took place on Twitter about whether or not the Ukrainians would dare enforce their ban – and international air law – and intercept and bring the trespassing plane down.  I have to say, most of us thought the Ukrainians would not be convincing enough for this brave Russian man in charge of the Russian defense industry to back down. And for a while it seemed like he was heading straight over Kiev's head (literally) to Moscow.
Until this happened.
All of a sudden, just over Chechelnyk in Ukraine, Rogozin's plan made an eloquent hook and turned back towards – and into – Moldova.
Only 10 minutes later, his plane had drawn one of the prettiest 8's that I have seen an airplane do.
Exactly 45 min after his EU-braving, Ukrainian-thrashing departure from Chisinau, Dmitry Rogozin landed in the same place where he'd left from.
And that says "sanctions hurt" more than anything else.
***
UPDATE: As I predicted in one of my tweets today, Rogozin got away by taking a commercial flight to Moscow, and cheating Ukrainian air controllers. Yep, if cheating was his victory, let it be 🙂
He also cheated the rest of the Russian delegation, who are stuck in Tiraspol
Нашему самолету с делегацией РФ приказали вернуться в Кишинев, пригрозив принудит.посадкой на Укр. А @Rogozin -а проморгали. Он уже в Мск))

— Владимир Мединский (@medinskiy_vr) May 10, 2014